VICTORY CELEBRATION – SPECIAL MEETING




A SPECIAL VICTORY CELEBRATION MEETING FOR THE ACHIEVEMENT OF 78.2% IDA MERGER,ANNULMENT OF 60:40 AND PENSION ANOMALY WAS HELD IN CHROMEPET, CHENNAI IN A GRAND MANNER.
MEETING WAS JOINTLY ARRANGED BY CHENNAI TELEPHONE CIRCLE AND TAMILNADU CIRCLE. MEETING WAS JOINTLY PRESIDED OVER BY COM. M.MURTHY PRESIDENT, CHENNAI TELEPHONE CIRCLE AND COM. V.RAMA RAO PRESIDENT TAMILNADU CIRCLE.
NEARLY 450 PENSIONERS FROM CHENNAI TELEPHONE CIRCLE, STR DN. CHENNAI DN. AND SOME PENSIONERS FROM TAMILNADU CIRCLE ATTENDED THE MEETING.
IN CHENNAI TELEPHONE CIRCLE 166 PENSIONERS AFFECTED IN PENSION ANOMALY WILL GET BENEFIT BY THIS VICTORY OF PENSION ANOMALY CASE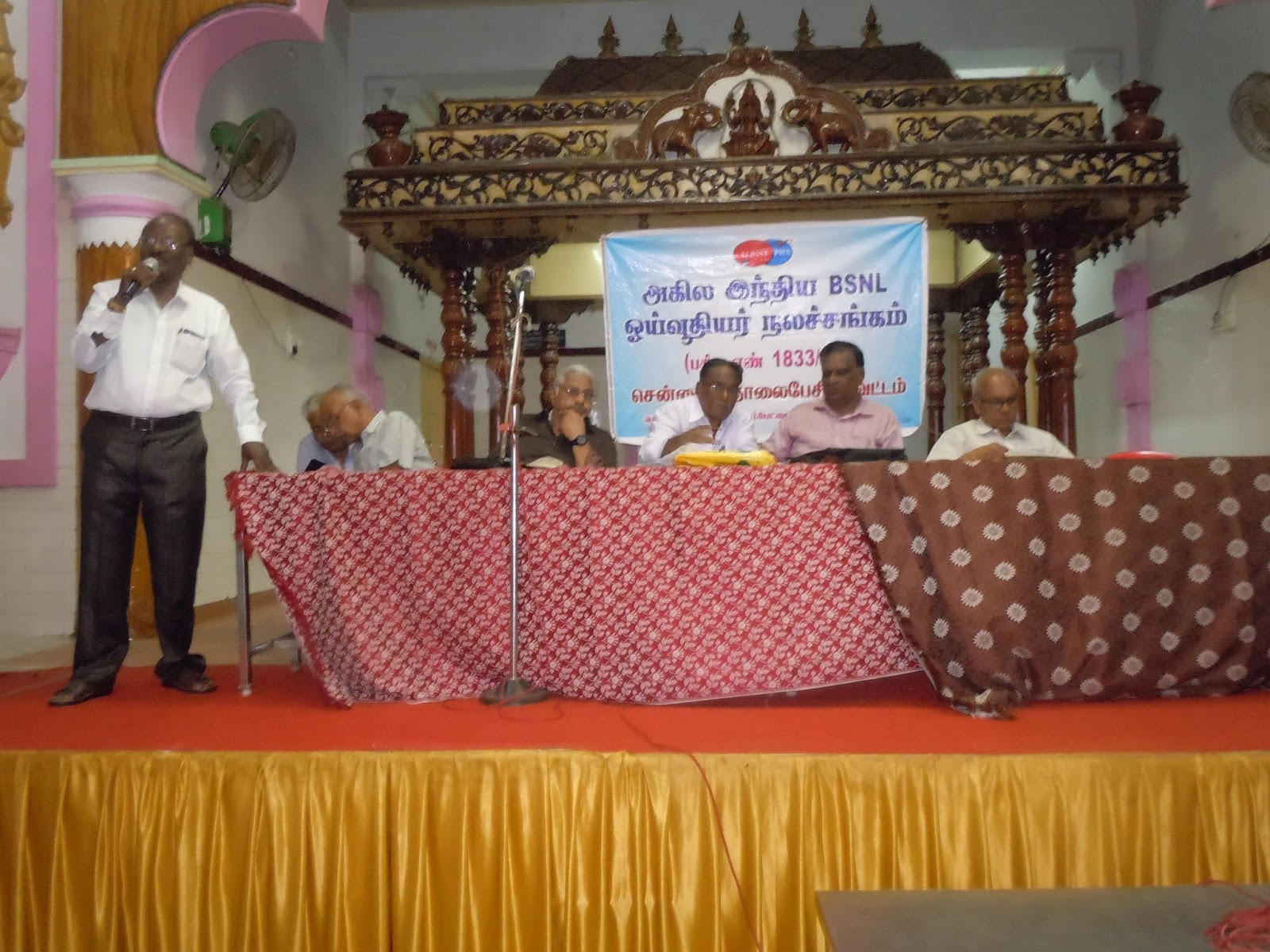 78.2% Pension Revision Victory Meeting was held in a grand manner at Chrompet on 27-1-17. The Meeting was jointly arranged by CHTD & TN Circle. Com Murthy, President CHTD Circle & Com V. Ramarao, President TN Circle jointly presided the meeting.
Com M. Govindarajan, Circle Secretary CHTD welcomed all the leaders and the pensioners.he explained the purpose of the meeting.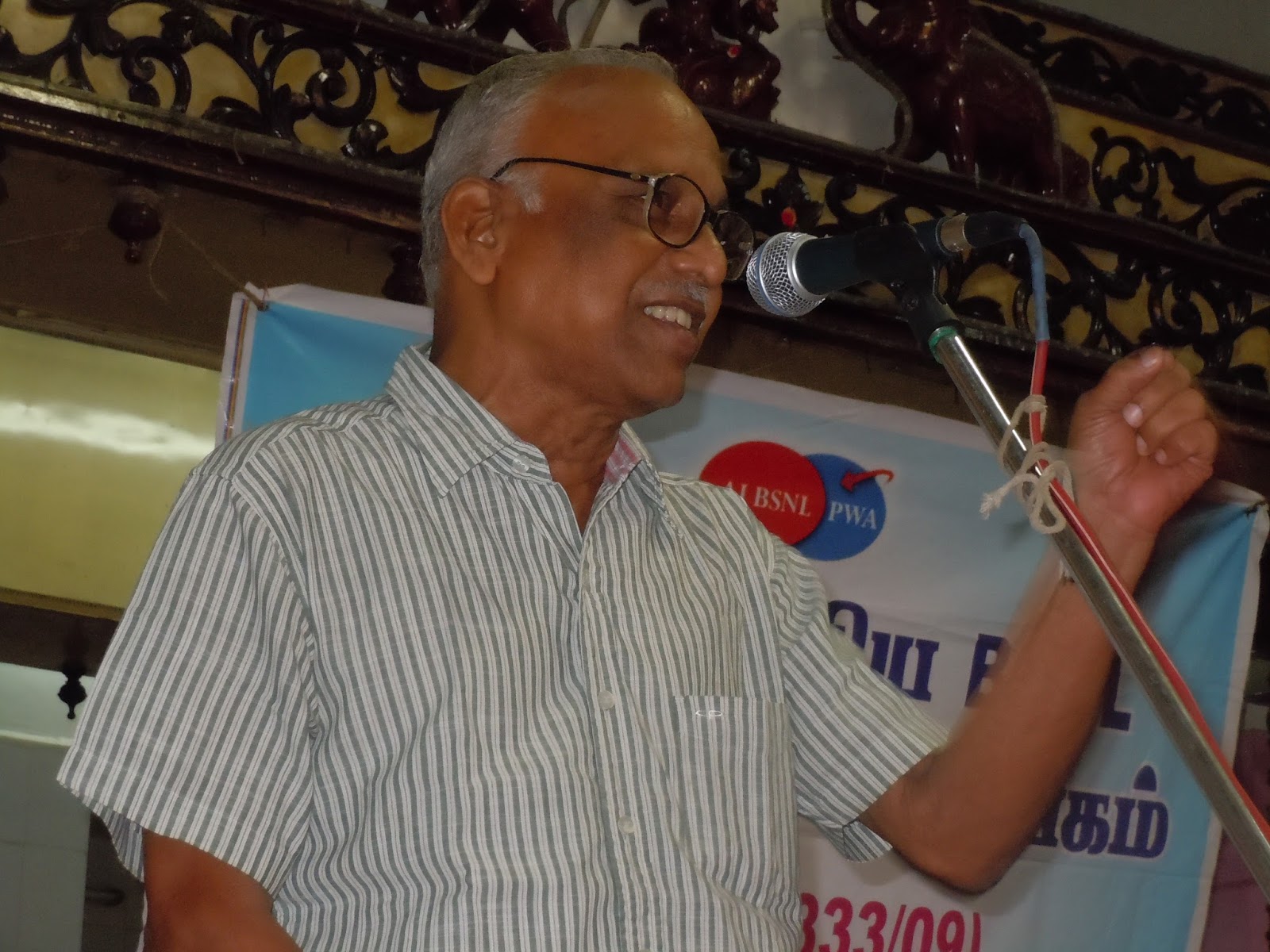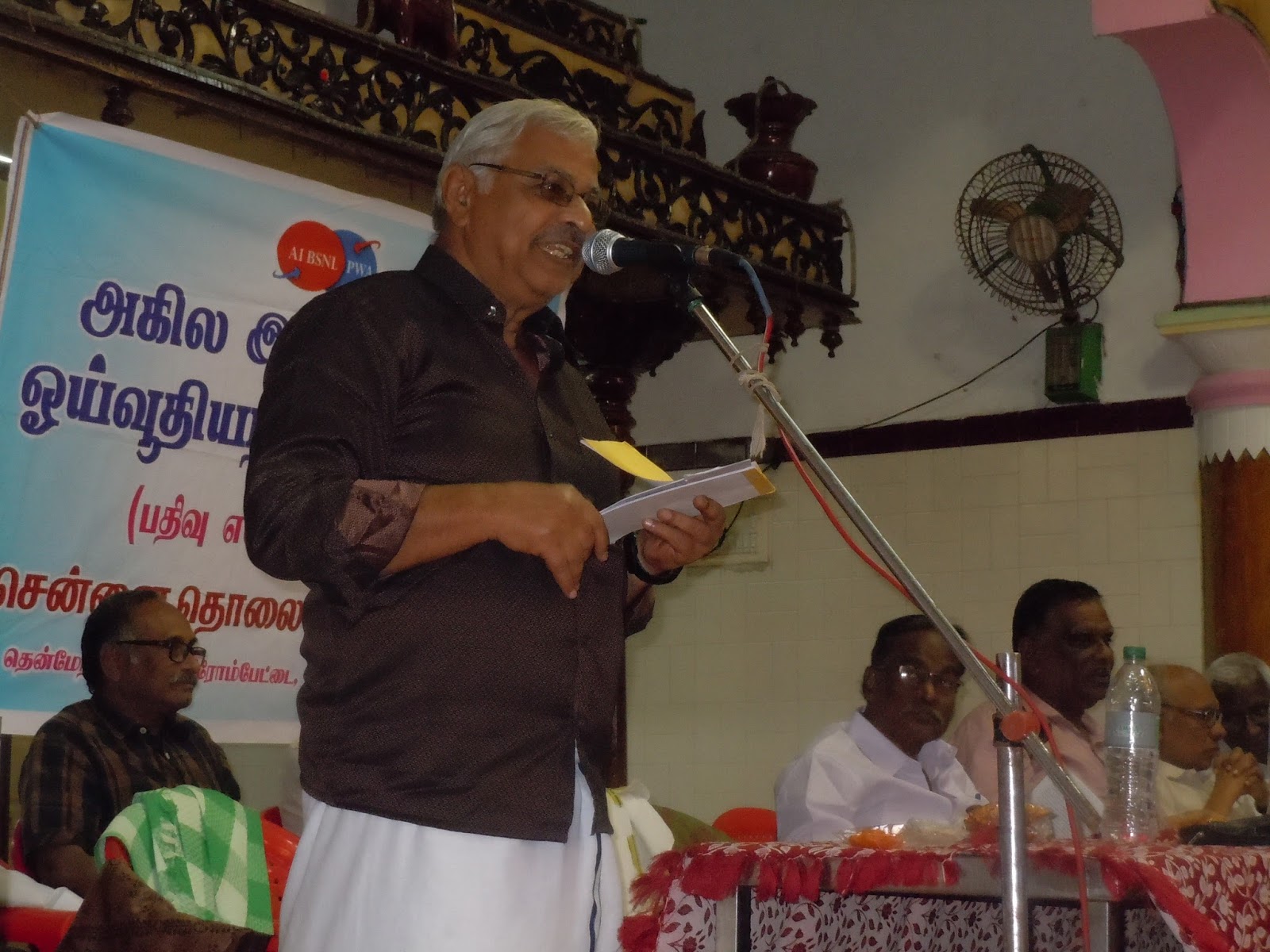 Com G. Natarajan, All India General Secretary in his address explained the steps taken by our association to rectify the 2000-2001 Pension anomaly cases. He said that we had finally approached CAT NEW DELHI to solve this case. He said that we got a favourable judgement and 4230 pensioners will get benefit out of this. He said that he had given a letter immediately to DOT Secretary to implement the court order and requested not to go for any appeal. He requested our members to make enroll the left out pensioners in our association.



Com Ramankutty, All India President explained in detail about our associations achievements during the past years. He said that we fought and got 78.2% Pension revision orders after 3 years but there was a heavy delay in all circles about issuing pension revision orders. He said that our All India association is thinking for some type of agitation like post card campaign to PRIME MINISTER OF INDIA.
Com D. Gopalakrishnan explained in detail about the reason for 3 years delay for getting the orders for 78.2% pension revision. He said that Honourable Minister Ananthakumar played a vital role in achieving this demand. He also told about 2000-01 pension anomaly case in detail and that explained how much efforts our association had taken to achieve this demand. The court had now given the judgment in favour of us and about 4230 pensioners would get benefit out of this. He said that as on 23-12-16 CCA Tamilnadu has released pension revision orders for 1550 cases for pre 2007 pensioners and as on 20-01-2017, about 1590 cases of post 2007 pensioners. He said now 4 new adhoc JA/SA officers had recruited by CCA TN and 6 members of our association are doing honourary job in helping them for processing the cases. He hoped that the things would move further fast.
Com K. Muthiyalu said that he along with com V. Ramarao met CMD BSNL in Chennai recently and gave a memorandum to expedite the pension revision works at BSNL Tamilnadu units. He requested our members to enroll other pensioners who had not joined so far in our association. He also requested our members to subscribe to our All India Journal PENSIONER PATRIKA. He asked our members to collect 78.2% Pension revision donation.
*78.2% IDA MERGER
*60:40 ANNULMENT
*PENSION ANOMALY
VICTORY CELEBRATION MEETING JOINTLY CONDUCTED BY CHENNAI TELEPHONES AND TAMILNADU CIRCLE
ON 27.01.2017 (FRI DAY) AT 1400 HRS.
AT ANANDHA THIRUMANAMANDAPAM
CHROMEPET, CHENNAI.

SPECIAL ADDRESS BY

*COM. P.S.RAMAN KUTTY
*COM. D.GOPALAKRISHNAN
*COM. G.NATARAJAN
COM K.MUTHIALU
--------ALL ARE WELCOME -------
A SPECIAL COMBINED MEETING WILL BE CONDUCTED BY CHENNAI TELEPHONE DIST. AND STR CHENNAI DN.ON 27.01.2017 AT 1400 HRS. AT ANANDHA THIRUMANAMANDAPAM, GST ROAD, CHROMEPET (near Chromepet bus stand) CHENNAI.
CIRCLE PRESIDENT COM. M.MURTHY WILL PRESIDE OVER THE MEETING. THE FOLLOWING ALL INDIA OFFICE BEARERS WILL ADDRESS THE MEETING.
COM. P.S.RAMANKUTTY --- CHQ PRESIDENT
COM. D.GOPALAKRISHNAN---CHQ V/PRESIDENT
COM. G.NATARAJAN --- GENERAL SECY.
COM. K.MUTHIALU ----- CHQ O/SECY.
AND OTHER LEADERS
ALL ARE REQUESTED TO ATTEND THE MEETING AND MAKE IT A GRAND SUCCESS
---------M.GOVINDARAJAN C/S CHTD
FLASH… FLASH... FLASH
WE HAVE WON THE ANOMALY CASE
.We have won the case on Pension anomaly of those who retired from BSNL during the period from October 2000 and June 2001. It is another feather on the cap of AIBSNLPWA.
I appreciate the great work done by our Legal Committee consisting of Com. D Gopalakrishnan, Com. R L Kapoor and Late Com. Chhidu Singh (Com. R H Mitkary is the member of the committee now in place of Com. Chhidu Singh.)
They spent days and months to collect all materials relevant to the case. The Advocate Shri Naresh Kaushik pleaded the case brilliantly on behalf of our Association. Advocate could plead it properly because of the feedback he received from our Legal Committee.The Judgement in full (24 pages) is uploaded below. By clicking on the link you can see the full judgement. I hope better sense will prevail on the top officers in DoT and issue necessary orders without going for an appeal and prolong the legal battle. Let us wait and see.
P S Ramankutty
TNR .BR.MEETING
----------------------------
THIRUNINRAVUR BRANCH MEETING WILL BE HELD ON 07.01.2017 AT 1600 hrs. AT ST. PETERS CHURCH THIRUNINRAVUR CHENNAI.
ALL ARE REQUESTED TO ATTEND THE MEETING.


KAL. BR. MEETING
-----------------------------
KALMANDAPAM BRANCH MONTHLY MEETING WILL BE HELD ON 07.01.2017, AT 1600 Hrs. AT KALMANDAPAM EXCHANGE COMPLEX.. ALL ARE REQUESTED TO ATTEND THE MEETING.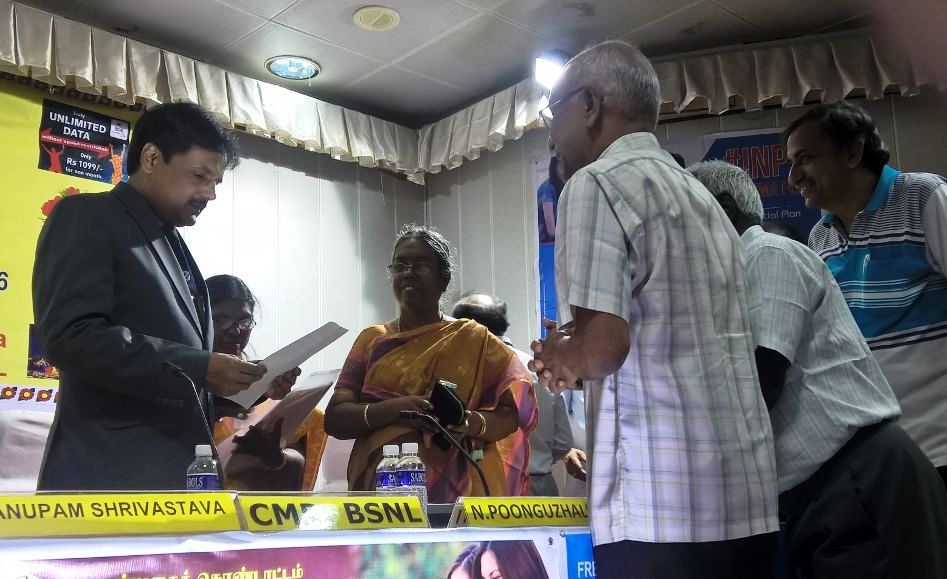 Today, on 31-12-2016, Com. G Natarajan (GS) and Com. K Muthiyalu (Org. Secretary) submitted a memorandum to the CMD BSNL who was in Chennai demanding
immediate action to complete the work on 78.2% and restoration of medical allowance without voucher to the BSNL retirees. CMD assured to examine both.
IDA RATE REDUCED FROM NEW YEAR DAY
CASHLESS = LESS CASH = LESS INDEX = LESS IDA
The Labour Bureau of India has officially released the All India Consumer Price Index (AICPI) for the month of November 2016. It is 277 Points. AICPI for October was 278 Points and for September it was 277 Points. Three months' average is 277.33.

Based on the above average the IDA from January 2017 will be119.5%. There will be a decrease of 0.8% from the existing rate of 120.3%.
Recent action of withdrawal of Rs 500 and Rs 1000 Notes rendered large section of the people cashless. It reduced their purchasing power. It affected the small scale trade, the markets. In turn, it affected the price and Index also.
The advisors of Prime Minister deal with Credit Cards and Smart Cards. They do not know the stark reality in the villages and small towns and in the ordinary families.
This is the result of a good scheme implemented without proper planning, without proper preparation and without understanding the ground reality. Financial experts trained by world Bank or IMF or US based Institutions do not know what the real India is.
We are moving into a new year…..
….P S Ramankutty
DOT ORDERS ON 7TH CPC PENSION:
DOT endorsed and issued orders on 22-12-16 on 7th CPC PENSIONERS RULES for post 2016 & pre 2016 Pensioners:
To see the orders click the following links:
Our Vice President Com. D Gopalakrishnan spoke to Shri S K Jain, DDG(EST) of Department of Telecom yesterday.
78.2 Revision:
Com. DG pointed out undue delay in processing the cases in most of the Circles. The target date is fast approaching but the work is very sluggish. DDG told that he checked up with UP East Circle. There, more than 50% of he cases are settled. Com. DG pointed out that it is not the case with other Circles. For example; in Tamilnadu Circle hardly 20% cases have been settled. Then DDG informed that Directorate has issued two reminders to all CCAS. It will be followed up.
Benefits of seventh CPC:
Com. DG reminded the DDG of our discussion last month regarding issuance of orders extending the benefit of Seventh CPC report on upper limit of Gratuity, new Commutation, Minimum Pension etc. to the BSNL IDA pensioners. DDG informed that DoT has sought guidance from Department of Pension in this regard. As soon as the guidance is received from DOPW necessary orders will be issued.


[Today, Com. D Gopalakrishnan spoke to Mr. Harjeet Singh, a senior officer in Department of Pension about the above reference from DoT. According to Mr. Singh there is no need of any fresh approval. DoT can issue orders based on earlier approval. Then, Com. DG sent an Email to DDG Establishment to issue the orders without delay. Let us see how Directorate is moving.]
VELACHERY BRANCH MONTHLY MEETING WILL BE HELD ONON 02.01.2017,AT 1600 Hrs.ATN DHANDEESHWARAR NAGAR RESIDENTIAL WELFARE ASSOCIATION BUILDING, DHANDEESWARAR NAGAR CHENNAI--600044.
ALL ARE REQUESTED TO ATTEND THE MEETING ALL ARE REQUESTED TO ATTEND THE MEETING

SAIDAI BRANCH MONTHLY MEETING WILL BE HELD ON 08.01.20`17 AT 1600 Hrs.at OXFORD METRIC. HR. SECONDARY SCHOOL SAIDAPET (near Aranganathan subway) CHENNAI--600015.
SINCE 1st. SUNDAY FALLS ON NEW YEAR DAY MEETING HAS BEEN SHIFTED TO 8th.JANUARY 2017. ALL ARE REQUESTED TO ATTEND THE MEETING
On 17-12-2016 pensioners day was celeberated in chennai along with the chromepet branch bimonthly meeting in Anandha kalyanamandapam Chromepet Chennai.
More than 200 memebers attended the meeting.
The meeting was presided by Com.Moorthy Circle president.
Circle Treasurer Com.Kannappan and Circle secretary Mr.Govindarajan addressed the meeting explaining the efforts taken at circle level in 78.2 implementation.
Our General Secretary com.G.Natarajan and All india Treasurer
Com.Vittoban addressed the meeting explaining the efforts made in
78.2, achievement and 60-40 annulment appreciating the help of
Mr.Ananthakumar Central minister .Also explained Pensioners day celebration
recalling Com.Nakara vs union of India case importance.
Vote of thanks was given by Com.krishnamoorthy . 19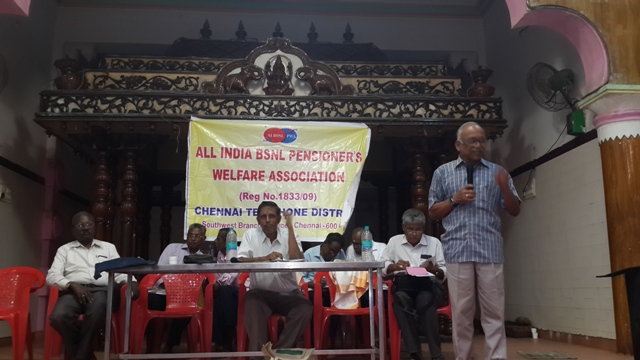 gnaddress1
+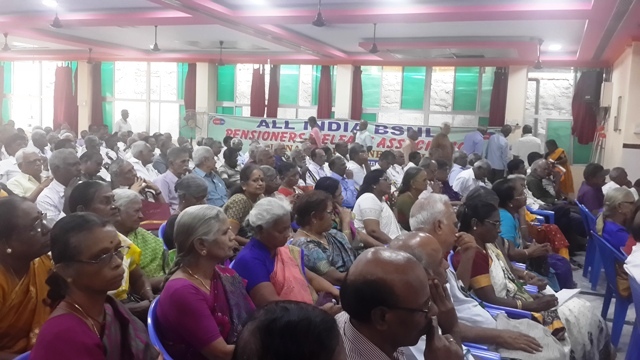 aud1
+
aud2
+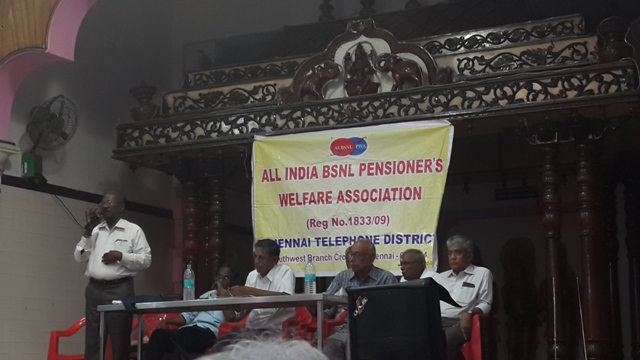 mgraddress
+
PENSIONERS DAY CELEBRATION WILL BE HELD ON 17.12.2016 AT 1400 Hrs.at ANANDA KALYANAMANDAPAM , GST ROAD,CHROMEPET ( near chromepet bus stand). THIS IS THE COMBINED MEETING OF CMT BR. MEETING AND PENSIONERS DAY CELEBRATION.IT IS ORGANIZED BY CHROMEPET BRANCH HEADED BY COM. S.THANGARAJ BR. SECY ON BEHALF OF CIRCLE ASSOCIATION.ALL THE MEMBERS ARE REQUESTED TO ATTEND THE MEETING.
ANOMALY CASE: ARGUMENTS OVER
Com. R L Kapoor reports from Delhi that today, CAT Principal Bench took up the case filed by our Association regarding anomaly faced by those BSNL employees who retired without completing ten months in BSNL. Government advocate wanted postponement of the case; but the judge did not allow that.Arguments are over today. Judgement is reserved.It can be expected soon. Let us hope the best.
78.2% IDR BENEFIT AND COURT CASE
Dear Friends,All are aware that the financial benefit out of 78.2 % is granted from 10-6-2013 because the serving staff of BSNL was given from that date only. To the pensioners, it should have been given from 1-1-2007. But, DoT proposed it from 10-6-2013 in the Cabinet Note and the Cabinet approved it. It is understood that some people are now collecting money and vakkalathnama from pensioners to file a case in CAT to get the benefit from 1-1-2007. If any Pensioner gives money to such people, it is his/her responsibility.We also thought of filing a case but postponed a decision for number of reasons;
1. We want that the present order should be implemented as early as possible. The target date is 31-12-2016. From the reports we feel that no Circle will complete the work before the date. Staff shortage in CCA offices is the main reason. Lethargic attitude towards pensioners is another. We must concentrate on this aspect now. We should get the benefit of the order without further delay. A court case challenging the order should not be an impediment to the ongoing process.

2. The Court Case is a time consuming exercise. In 2010, the CGPA Kerala filed a case for getting pension @ 50% of Last Pay Drawn for the pre-2006 people. Even after six years the case is not taken up for hearing. Cases filed in 2005 are taken up now. That means the CGPA case will be taken up in 2020 or 2021. In 2014, our Association filed a case in Principal bench of CAT to get the pension anomaly removed. [We did not collect money from the concerned pensioners.] It was listed several times and postponed every time. It may be taken up for hearing in 2017. So, if a case is filed in 2017 demanding 78.2% from 1-1-2007, it may be taken up after 4-5 years. Nobody can predict nature of the Court decision. If it is in favour of pensioners, the government will go on appeal to High Court and Supreme Court.
3. Our Association will make all efforts, including approaching the PM, to get the benefit from 1-1-2007.For us, a regular system to revise our pension along with the central government pensioners in India is the most important issue. Similarly, we are trying to get a decision by the Government to grant pension at the rate of 50% of Last Pay Drawn to all who rendered qualifying service of ten years, irrespective of the date of their retirement. Everybody retired before 1-1-2006 should get it.….At this stage, we are not contemplating to file any court case. When we decide we will intimate all.………………. P S Ramankutty
Pensioners – Aadhaar Seeding not Mandatory
There is no proposal to make Aadhar mandatory for release of pension to the central government pensioners, Parliament was told on Wednesday."There is, at present, no proposal to make Aadhaar seeding mandatory for release of pension to the central government pensioners," said Minister of State for Personnel, Public Grievances and Pensions Jitendra Singh told the Lok Sabha in a written reply.Noting 87 per cent of central government pensioners of all age categories have seeded their bank accounts with Aadhaar number, he said that the government has made efforts to seed accounts of all central government pensioners with Aadhaar numbers so as to enable them to benefit from the additional facility of submission of Digital Life Certificate."Public Sector Banks are authorised to enroll pensioners for issue of Aadhaar number, including old and infirm pensioners."This was stated by the Minister of State for Personnel, Public Grievances and Pensions and Minister of State in the Prime Minister's Office Dr. Jitendra Singh in written reply to a question by Shri Natubhai Gomanbhai Patel in the Lok Sabha yesterday.
JOINT LETTER BY CHTD AND TN TO CCA
A JOINT LETTER OF TAMIL NADU CIRCLE AND CHENNAI TELEPHONE DIST. HAS BEEN SUBMITTED TO CCA ON 07.12.2016, STATING THAT ENORMOUS DELAY IN SETTLING OF 78.2 ARREARS AND GOING FOR DEMONSTRATION ON 16.12.2016. CCA TOLD THAT ALREADY A LETTER HAS BEEN SENT TO ASOCIATION CALLING FOR A MEETING TO DISCUSS THE ISSUES. WE TOLD THAT WE HAVE NOT RECEIVED ANY LETTER SO FAR. ON THE SAME DAY A CALLING LETTER WAS HANDED OVER TO COM.K.MUTHIALU TN C/S.BY Jt.CCA. IT IS DECIDED TO DEFER THE PROGRAMME OF DEMONSTRATION AND FURTHER PROGRAMME WILL BE DECIDED AFTER SEEING OUT COME OF THE MEETING WITH Jt.CCA ON 16.12.2016 .AT 60, ETHIRAJ SALAI, EGMORE,CHENNAI - 600008 ---------M.GOVINDARAJAN C/S

AS REQUESTED BY DY.CCA DOT FOR HELPING HAND FROM OUR ASSOCIATION TO SPEED UP THE 78.2 PROCESSING WORK,OUR ASSOCIATION HAS DEPUTED THE FOLLOWING SIX OF OUR PENSIONER COMRADES TO DOT CELL. COMS.V.N.VENKATRAMAN, KUPPAN, CHANDRIKA, HEMAVATHY, A.SUBRAMANIAM AND A.S.VYDYANATHAN. FIVE OF THEM REPORTED TO DY.CCA DOT CELL ON 05.12.2016.THEY HAVE BEEN PROVIDED WITH TWO PCS AND FURNITURES.AND THEY HAVE BEEN ASKED BY DY. CCA TO TAKE UP PRE 2007 CASES. THEY STARTED DOING PROCESSING WORK OF 78.2 PRE 2007 CASES. CHTD CIRCLE ASSOCIATION CONGRATULATES THOSE COMRADES FOR THEIR VOLUNTARY SERVICE.
FURTHER SOME MORE COMRADES ARE KEEPING IN WAITING FOR DEPUTING AS AND WHEN THERE IS AN REQUIREMENT FROM DOT CELL.------------M.GOVINDARAJAN C/S
THE GOVERNMENT OF INDIA HAS EXTENDED THE LAST DATE FOR SUBMISSION OF LIFE CERTIFICATE TO 15-1-2017 FROM 30-11-2016
1 pension adalat
+
DSCN9216
+
DSCN2837
+
DSCN9207
+
DSCN9218
+
AIBSNLPWA CWC MEETING WAS HELD ON 12th &13th NOVEMBER 2016 AT BANGALURU.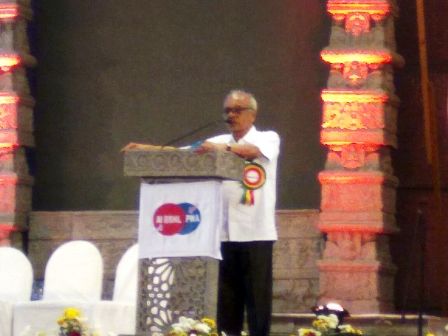 PSR
+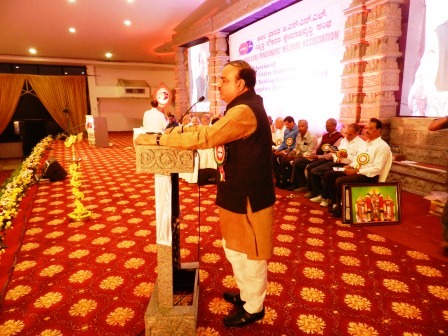 MINISTER ADRESS
+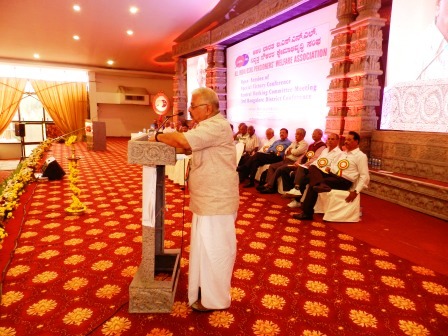 DG ADDRESS
+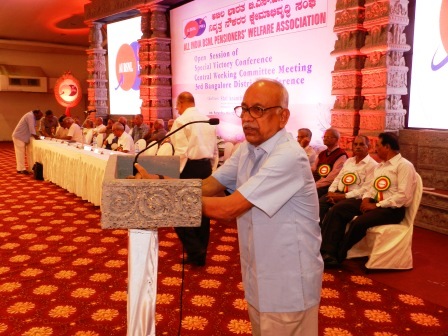 GN ADRESS
+
DIAS os
+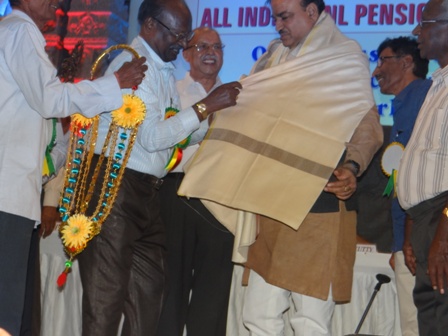 copy92_mgr_minister
+
mgr vsundar momento to minister
+
AIBSNLPWA CWC MEETING WAS HELD ON 12th &13th NOVEMBER 2016 AT BANGALURU.
ON 12.11.2016 AT 1500 hrs.VICTORY CELEBRATION OPEN SESSION MEETING WAS CONDUCTED IN A GRAND MANNER AT SHEESH MAHAL PALACE GROUND BANGALORE. MEETING WAS PRESIDED OVER BY COM.P.S.RAMANKUTTY,PRESIDENT CHQ,AND COM. G.NATARAJAN G/S GAVE WELCOME ADDRESS. AT 1700 hrs. shri ANANTHKUMAR HONOURABLE MINISTER OF CHEMICAL AND FERTILLISER AND NOW PARLIAMENTARY AFFAIRS.ARRIVED CONFERENCE HALL STRAIGHT FROM AIRPORT.MINISTER WAS GIVEN A WARM WELCOME.COM.D.GOPALAKRISHNAN V/P &SECY. ASIA TUI (P&R) GAVE WONDERFUL KEY NOTE ADDRESS.HE EXPLAINED IN DETAIL ABOUT THE ACHIEVEMENT OF 78.2% IDA MERGER.HE REQUESTED THE MINISTER TO HELP US TO SETTLE OUR NEXT PENSION REVISION AT PAR WITH CENTRAL GOVT. PENSIONERS. HE QUOTED THE JUSTIFIED POINTS FOR OUR DEMAND OF PENSION. CCA KARNATAKA AND G.M. BANGALORE TELEPONES ATTENDED THE CELEBRATION CONFERENCE AND GRACED THE FUNCTION.
HONOURABLE MINISTER WAS HONOURED WITH MEMENTOS FROM ALL THE CIRCLES.MINISTER WAS IMMENSELY HAPPY OVER OUR FELICITATION AND THANKED OUR ASSOCIATION. IN HIS ADDRESS MINISTER TOLD THAT HE IS THE SON OF RAILWAY PENSIONER AND A ACTIVE MEMBER OF RAILWAY MAZDHOR UNION. HE ALWAYS BE WITH WORKERS SIDE.HE IS READY TO HELP US TO SETTLE OUR DEMAND AND HE CONVINCED OUR DEMAND BY ITS NATURE.HE INVITED OUR ASSOCIATION LEADERS TO COME AND MEET HIM AT DELHI ON 21st.OF THIS MONTH TO PURSUE OUR CASE.
COM R.CHANGAPPA CONVEYED VOTE OF THANKS. VICTORY CELEBRATION MEETING WAS GRAND SUCCESS.THE ARRANGEMENTS MADE BY KARNATAKA COMRADES EXCELLENT.ARRANGEMENT OF FOOD AND ACCOMMODATIONS WERE VERY WELL.OUR SINCERE THANKS TO KARNATAKA COMRADES FOR THEIR EXCELLENT ARRANGEMENTS. ON BEHALF OF OUR CHENNAI TELEPHONE DIST.COM.M.GOVINDARAJAN C/S AND V.SUNDAR HONOURED THE MINISTER BY SHAWL WITH SANDAL GARLAND AND PRESENTING LORD NATARAJA IDOL. THE FOLLOWING MEMBERS OF OUR CHTD ATTENDED THE CELEBRATION MEETING; COMS.G.NATARAJAN G/S. T.S.VITTOBAN Tr.CHQ, .M.GOVINDARAJAN C/S .S.GUNASEKARAN, V.N.SMPATHKUMAR, R.GOWRISANKAR, D.HARIHARAN, V.SUNDAR, V.RATHNA, GOWRI SUKUNASEKARI, KALPANA, M.BASKARAN, ANANDAN, KANDASAMY, N.KANNIAPPAN,
VENKATRAMANI, M.RAJU THE ENTIRE CONFERENCE PROCEEDINGS WERE TELECASTED LIVE IN WEB TELECAST.ALL OVER THE WORLD IT WAS WATCHED BY OUR MEMBERS.
STATUS OF 78.2% CASES IN CHENNAI TELEPHONE DIST. AS ON 05.11.2016 IS AS BELOW:PRE 2007: TOTAL NUMBER OF CASES------------------: 2300 PROCESSED AND SENT TO CCA ---------: 445( Year 2000 and 2001 completed)POST 2007:TOTAL NUMBER OF CASES--------------------: 3200PROCESSED AND FORWARDED TO CCA:817 (Year 2007,2008,and 2009 completed )Six of our comrades working in the pension section of CHTD --Three for disposing pre 2007 cases and three for post 2007 casesFurther much progress is expected in the ensuing week.------ M.GOVINDARAJAN c/s CHTD