Please click here to see the File attached to understand the benefit being derived from the new Option given to CDA pensioners, including DOT pensioners. third-option-benefit.pdf
OUR NEXT CENTRAL WORKING COMMITTEE MEETING WILL BE HELD ON 11-12, NOVEMBER, 2017 AT PATNA, BIHAR. ALL CWC MEMBERS (CENTRAL OFFICE BEARERS AND CIRCLE SECRETARIES) ARE REQUESTED TO RESERVE THEIR TICKETS TO AND FRO WELL IN TIME. FORMAL NOTICES WILL BE ISSUED BY GS.
FIXED MEDICAL ALLOWANCE FOR DOT PENSIONERS LIVING IN AREAS NOT COVERED BY CGHS
Dept. of Expenditure, Central Pension Accounting OfficeOM
No. CPAO/IT&Tech/Revision(7th CPC/19.Vol-III/2017-18/68 dated 14-07-2017
Attention is invited to Ministry of Finance, Department of Expenditure Resolution No.11-1/2016-IC dated-6th July, 2017 on the above subject whereby it has been decided to revise the existing rates of following allowances for Pensioners:
------------------------------------------------------------------------------------------------------------------------------------
1. Fixed Medical Allowance: Existing Rates: Rs 500/- .... Revised Rates: Rs 1000/-
2. Constant Medical Allowance on 100% disablement: Existing: Rs 4500/- .... Revised Rs 6750/-
--------------------------------------------------------------------------------------------------------------------------------------
These revised rates are payable w.e.f. 01.07.2017.
In view of the above, Heads of CPPCs/Government Business Departments of all the banks are requested to arrange to credit the pensions/family pensions to the bank accounts from the month of July, 2017 onwards, for the respective pensioners who are already being paid above allowances, with the revised rates without waiting for any specific/separate authority from CPAO for such Pensioners.
This issues with the approval of the competent authority.
CHQ NEWS
The Hindu Business Line quoting PTI reports that the Cabinet chaired by PM Shri Narendra Modi, yesterday approved the Third PRC report for wage revision of serving Executives in PSEs. We do not doubt the credibility of Hindu or the PTI. The report says that 15% hike in salary is proposed. There, the doubts arise. Because PRC has recommended 15%, 10% and 5% hike depending upon the affordability of PSUs. Hence, we were waiting for the official Press Release.
Normally, after Cabinet Meetings the Press Information Bureau releases Press Communiqués. After yesterday's meeting also the PIB has given eight Press Releases. In that there is nothing about the PRC Report and Pay hike in CPSEs.
The Procedure:
There are certain procedures for implementing PRC report like; 1) The Cabinet approves it based on the Cabinet Note submitted by Department of Public Enterprises. 2) DPE issues the Office Memorandum based on the Cabinet approval. 3) DOT endorses the DPE OM to BSNL. 4) BSNL Board meets and considers the affordability and then takes a decision.
Even if the Media report is correct, we have to wait for the further procedures.Let us wait and see. Let us not jump into any hasty conclusion. And, after all, it is only for serving Executives. Not for retired people
The Seniors Demonstrate Their empatic protest and anger:
Hundreds of BSNL PENSIONERS from Chennai Telephone District and Chennai Traffic Division, Chennai STR Division and a large number of PENSIONERS from adjacent SSAs from CUDDALORE, PONDICHERRY & VELLORE participated in the MASS DHARNA on 19-7-17 in front of CCA OFFICE, Chennai protesting against the unhelpful attitude of the Pr.CCA Office towards the settlement of the pending problems of pensioners in 78.2% pension revision arrears and also to protest against the disrespectful attitude of the CCA OFFICE Officials, Ethiraj Salai showing towards our leaders and pensioners when they visit CCA office for genuine enquiries.
DHARNA1
+
demonstrationleaders
+
AUD
+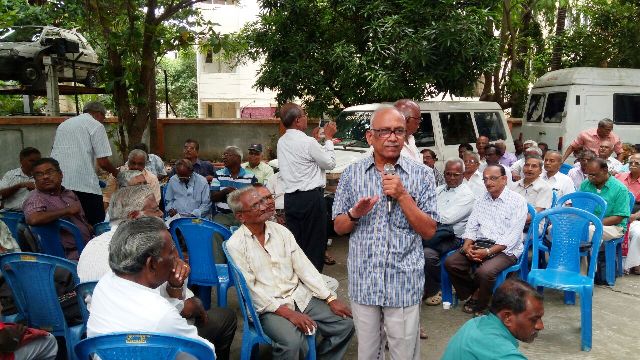 GN
+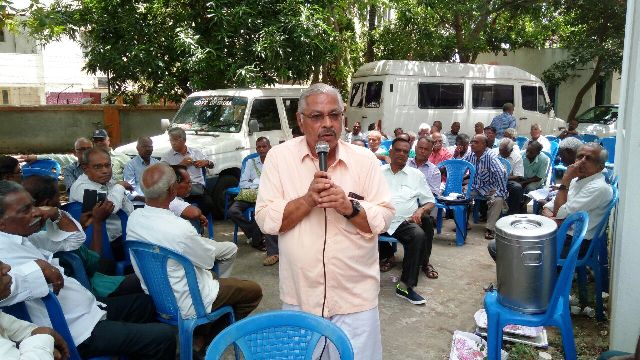 copy44_DG
+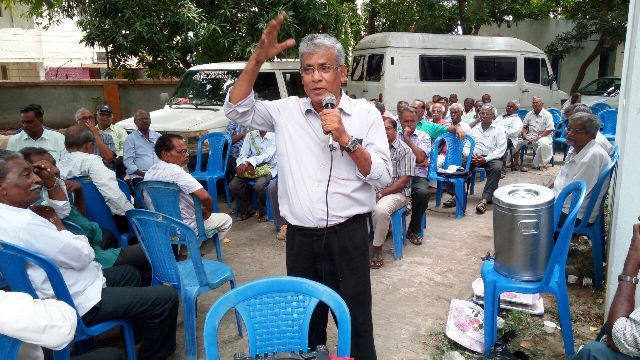 vitoban
+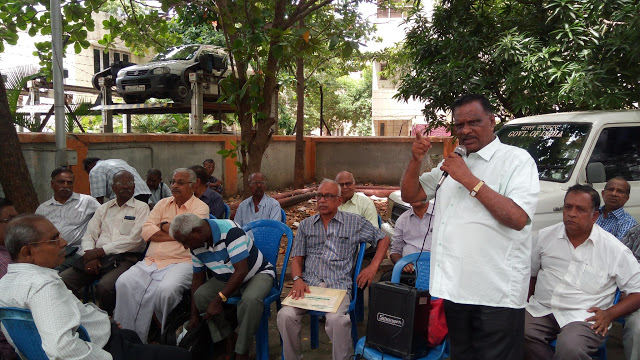 ramarao
+
Muthialu
+
mgr
+
15-07-2017:
In Chennai Telephone Dist. 184 extra increment case files have
been returned to concerned area DGMS/CAOS from DOT without disposal of
78.2 arrears .The area DGMS are asked by dot to cut the extra
increment and returned to DOT for further processing of 78.2.

Tamil Nadu circle and Chennai Telephone circle decided to
approach the Honorable CAT to stay the recovery of extra increment and
pray for extending the extra increment benefits as per the order
issued earlier by the BSNL Corporate office.

The affected members of our association are requested to
.furnish the details as given below to their respective branch
secretaries.

1) Name of pensioner
2) PPO number
3) Date of entry in service.
4) Date of retirement
5) Date of extra increment.

Branch secretaries are requested to verify the membership and
conformed, members only will be included in the filing case and also
requested to share their opinion in this regard.
-------------------M.Govindarajan c/s
[14/07 22:40] MGR: MESSAGE FROM SRI R L KAPOOR
........
We have filed Contemt Petition in Principal Bench CAT NEW DELHI against the RESPONDENTS to ensure the implementation and compliance of order dated 16.12.2016 in OA NO . 2173 of 2014 passed in our PENSION ANOMALY case for those who retired between 01.10.2000 to 30.06.2001 after their absorption in BSNL.
R. L. KAPOOR,
Members Legal Committee
---------------------
Immediate effect of Contempt Case may be that Govt advocate will file the Appeal in High Court. In most of such cases the Courts condone delay on the part of govt departments.
Then we have to fight the case in High Court. We are prepared for the legal battle in Supreme Court even.
PSR
[14/07 22:40] MGR: Our Contemt Petition filed in Principal Bench, CAT NEW DELHI, in PENSION ANOMALY case was listed today in Court No. 2, At S. No. 6, before the Double Bench with the following particulars ....
C.P./100/422/2017
O. A. /100 /2173/2014
M. A. /100/2014
ALL INDIA BSNL PENSIONERS WELFARE ASSOS &ORS
V / S
SMT. ARUNA SUNDARARAJAN ,
SECY TELECOM & ORS
Our Advocate Mr. Naresh Kaushik appeared. Notice has been issued to all Respondents by names to file their reply.
Next date for hearing is fixed on 16.08.2017
With Regards.
R. L. Kapoor
DEMONSTRATION /DHARNA
Major portion of 78.2 cases have been completed with the help of our retired comrades who worked at DOT cell.
Still some of the pensioners have not get the arrears ,some pensioners have not received their revised order,letters were posted to wrong address, change of address not incorporated in records,undelivered returned letters kept without dispose at CCA office and for other issues.
Tamil Nadu Circle and Chennai Telephone Circle decided to hold DEMONSTRATION/ DHARNA in front of CCA office at 80,Ethiraj Salai,Egmore
Chennai--600008,at 1000 hrs. on 19.07.2017.
All are requested to participate in DEMONSTRATION /DHARNA
--------M.Govindarajan c/s.
FURNISH THE DETAILS FOR COURT CASE:
1.Pre 2006 retired BSNL pensioners ( between01.10.2000 and 31.12.2006 ) got their pension 50% of 10 months average pay. Our association demanded that last pay drawn should be taken pension calculation. Hence our AIBSNLPWA (HQ) decided to file a case at CAT for demanding the same
2. 0ur pension has revised with 78.2 % merger from 10.06.2013 at par with service employees.But our pension should be revised with 78.2% IDA from 01.01.2007 on wards..
Hence our AIBSNLPWA (HQ) decided to file a case for both cases separately at CAT.
Members are requested to furnish the particulars as given below to their branch secretaries and branch secretaries are requested to collect the details and submit to the circle secretary by the end of July 2017.
Case no;1. List of those who retired between 01.10.2000 and 01.01.2006.
Case no;2. List of those who retired between 01.01.2006 and 10.06.2013.

1) NAME OF PENSIONER
2) .PPO NUMBER
3) OFFICE RETIRED FROM
4). DATE OF ENTRY IN SERVICE
5) DATE OF RETIREMENT

Note: Kindly refer the SPECIAL CIRCULAR of General Secretary, AIBSNLPWA and PENSIONERS' PATRIKA (July --August.,2017 ).
----- M.Govindarajan c/s
WHY WE DEMAND CPC BENEFIT, NOT PRC FORMULA?
26/06
Our Central Working Committee discussed the pros and cons of demanding pension revision with CPC formula and PRC formula. Then, CWC constituted a committee to study the matter in depth.In the next CWC meeting, the committee's report was discussed in detail. Again, the matter was considered by last AIC.After all these, we took a conscious decision to demand our Pension Revision with fitment benefits suggested by seventh Central Pay Commission.We want a permanent solution.We can not approach the Cabinet every time with memoranda and wait for Cabinet's decision. We have been making all efforts to achieve our goal. Still, some comrades are confused. Suddenly some of them started alleging that our CHQ is inactive. A kind of propaganda started in Whatsapp. So, I explained the position as under :…………………………………………………………………….
First three CPCs did not recommend any Pension Revision. Why?
Govt. did not include Pension Revision in their Terms of Reference.
Then came the Nakara Case judgeme