Instructions to collect data on option and report:

Today at 12 noon I along with J S Dahya and Anupam Kaul met Smt Sujata Rai, Director HR of BSNL and thanked her for restoring without voucher scbeme.
We requested her to clarify about option and periodicity of MRS card.
She directed us to meet the GM Admn.
We met GM then.
1. Pensioners have to exercise fresh option with/without voucher. A proforma is being issued to SSAs to collect and register options.
2. MRS Cards are issued for one year, 2 years, 5 years by circles. We wanted standardisation.
Circles will be directed to obtain undertakings from pensioners every year instead of renewing the card , like life certificate.
3. 2007 order is being revised on rent free tephone connections. The word free local calls is being replaced by metered calls.
...P S Ramankutty
The amount of without voucher payment:
For outdoor treatment without voucher facility was withdrawn vide corporate office letter dated 5/9/2011.
Now corporate office has revived that facility for pensioners vide its letter dated 11/4/2017. This decision is subject to review after six months.
For those who retired prior to 1/1/2007 there are two options. 1) Last pay drawn + old DA pattern in April of the year for which the claim is made divided by two. 2) Minimum of corresponding revised pay on 1/1/2007 + DA of April of the year for which claim is made. 12-1/2 days wages of this amount is the ceiling.
For those who retired after 1/1/2007, 12-1/2 days wages of LPD + DA of April of the concerned year to which claim is made. The above is total annual ceiling and it will be paid in four equal instalments.
We have been pursuing this demand since 2011 September onwards and we could succeed only now. It's one more achievement of our Association…. D Gopalakrishnan
AS on 31.03.2017,a total no. of 2355 pre 2007 cases of 78.2 for Chennai Telephone Dist.have been completed and sent revised orders.
All most all the pre. 2007 cases were completed.Nearly 200 cases for nonavailability/want of files are still under process.Some undelivered revised order letters for want of correct address/change of address returned and kept at Dot office at 60,Ethiraj Salai, Egmore,Chennai-8.

Those who are not received their revised orders,requested to contact their respective branch secretaries with details.
Regarding post 2007 cases so far 1500 cases have been completed and sent revised orders.It is expected will be completed by end of may 2017.
-----------M.Govindarajan c/s
MEDICAL ALLOWANCE:
It is learnt that BSNLCorporate office management committee has approved medical allowance for retirees experimentally for period of six months.But we have to wait for orders
-----------M.Govindarajan c/s
24/03 13:05]
It is understood that DoT has decided to file appeal in High Court against CAT judgement in Pension Anomaly case.
We have no alternative but to fight at every level.
Dot finance has collected data from all the CCAs after our discussion with Secretary, Telecom on 22/2/2017. The information is as follows :-
Tamilnadu, Uttarakhand and Bihar BSNL have sent all cases.
2) WB BSNL has not sent any case to CCA.
3) Patna CCA has cleared all the 3585 cases.
4) NE I has cleared all the received cases of 897 but BSNL is yet to send 103 cases.
5) The following CCAs have cleared /received HD-2608/11181, GJ-9338/9956, KR-2869/8139, KE-3297/10131,
MH-6844/13393, TN-7862/15830,
UPE - 4291/6644, MP-1597/4944,
Kolkatta - 2159/2651. Total pensioners eligible - 1,39,835. Cases received from BSNL - 1,09,442(78.27%). Pension revision order issued - 51,031 (46.63% & 53.37% is pending with CCAs).
This is the position as on 28 /2 /2017
AIFPA (ALL INDIA FEDERATION OF PENSIONERS ASSOCIATION) Saidapet
Association is conducting a DHARNA on 18-3-17 from 10 AM to 1 PM in front of Tamilnadu State Guest House, (adjacent to Ex Kalaivanar Arangam, Triplicane), to demand and modify the 7th CPC Recommendations for pensioners. It includes the raising of minumum pension to Rs.18000-. and also point to point pension revision fixation for pre 2016 pensioners.
If these demands are implemented BSNL pensioners will also get the benefits.Tamilnadu Circle Secretary Com K. Muthiyalu is the Key Speaker for this DHARNA.
Com S.Sridharan informed this news in his speech in our 14-3-17 monthly meeting also.
TN Circle and STR members members are participating.
We request Chennai pensioners also to participate in the DHARNA
Consequent upon our discussion with Secretary, Telecom on 22-2-2017, Member (Finance) has issued a fresh instruction.
BSNL offices should send pre-2007 and post-2007cases to CCA offices before 15-3-2017 and 31-3-2017 respectively. CCAs should issue orders before 31-3-2017 and 10-4-2017 respectively.
The letter is given below
NEW TARGET DATES FOR 78.2 BY DOT
+
EXTENSION OF FREE NIGHT CALLING FACILITY EXTENDED TO RETIRED EMPLOYEES HAVING CONCESSIONAL TELEPHONES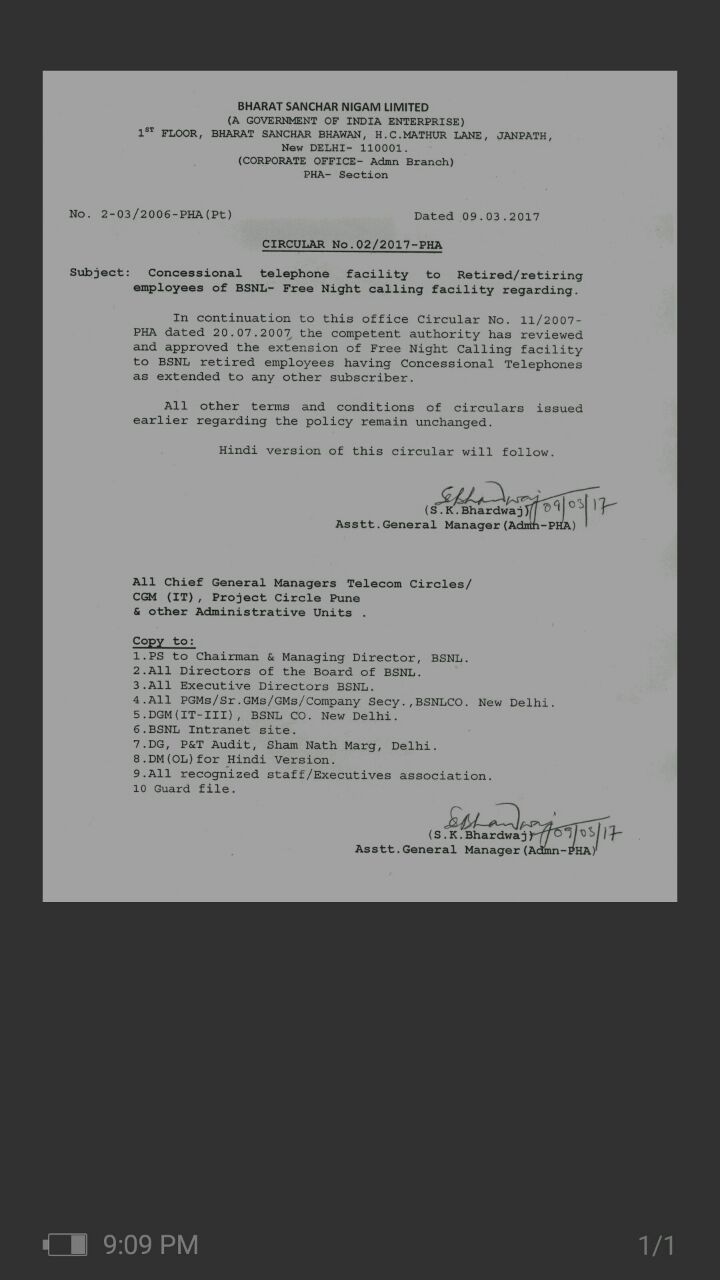 IMG-20170309-WA0038
+
In Chennai Telephone Dist. Pre 2007 cases as on 06.03.2017, 1900 number of cases have been cleared and sent revised letters to the concerned
pensioners. Nearly 475 left out cases, for want of files in each year, are under process and will be cleared by the end of March 2017.Pre 2007 retirees those who are not received revised letter, after March 2017 are requested to contact to their respective branch secys.with details of name, PPO number and date of retirement for further action.
In respect of post 2007 cases nearly 550 cases have been cleared and sent revised letters.But it is not in the order year wise seniority.They have taken up for processing in a bundle wise .Bundles are carrying ,mixed files of all the years of post 2007 cases.
After the intervention of circle secy and met with Dy. CCA and A.O of DOT cell on 03.03.2017, they started processing the files according to year wise seniority ( from 2007,2008 like that). Also Dy,CCA told that all the post. 2007 will be cleared by the end of June 2017.
--------M.Govindarajan c/s
As per the Govt.Of India instruction, Joint CCA(Pension) DOT Cell, Chennai, Released a circular vide his letter No: PR.CCA/TN/PVA/AADHAR No:SEEDING/BSNL Dt.16-02-2017 stating that all the DOT/BSNL pensioners must be linked to their Aadhar number with their pension account.
This will help the pensioners to provide digital life certicate through jeevan pramaan portal instead of physical life certificate during November of each year.
Pensioners, those who are not submitted their aadhar number so far , requested to submit their aadhar number to the respective pension disbursing banks/Post offices so as to enable them to create the electronic data transfer mechanism between the portal and the bank/post office server.
--------M.GOVINDARAJAN C/S`
SERIES OF MEETINGS
26/02
MEETING WITH DIRECTOR (HR), OF BSNL
There was a meeting with Smt. Sujata Ray, Director (HR) of BSNL on 21st February 2017. GM (Admn) and GM (SR) were also present. We expressed our sincere thanks for the meeting and courtesy shown by Smt. Sujata Ray.Before the formal discussions started, she asked us about the future pension revision of BSNL retirees. We told her that we had demanded pension revision with fitment benefit granted by Seventh Pay Commission and not PRC. She appreciated our stand. It was also indicated by her that BSNL is yet to take a formal decision on the third PRC report. She told also that the financial position of BSNL is in bad shape.
Restoration of Quarterly Medical Allowance
We pointed out that this matter is pending for many years. Director indicated that it is very difficult to restore medical allowance. We mentioned about the PRC recommendation to grant Rs 1000 per month. Again, she indicated difficulty in implementing that PRC recommendation in BSNL.
Delay in settling MRS Claims by Pensioners:
We told the Director frankly that even though she had instructed all to settle the medical claims from retirees within one month, no Circle is honouring the same. She assured that the matter would be looked into and directed the GMs to check up with some circles.
Change of Software
We pointed out that Medical claims are being processed now in ERP.Recently, the Corporate Office of BSNL has introduced a new system.Data of all the employees and retirees has to be fed in the new software which will take lot of time and delay the process. Director (HR) was inclined to accept our suggestion to allow the Circle Units to process pending cases up to 31-3-2017 in the existing system and then migrate to the new one.
Income Tax on MRS amount
Some SSA offices are deducting the income tax at source taking into account the medical reimbursement amount exclusively. As a result, some pensioners whose total income including the medical reimbursement amount they received is within the exemption limit of Rs Three lakh, are forced to pay income tax on the MRS amount in excess of Rs 15000. Director assured that the matter will be examined. She wanted a separate letter on it and next day we submitted the same to her office.
Denial of CGHS Card to BSNL pensioners:
When some BSNL pensioners approached the CGHS, the CGHS card was denied to them on the plea that they have not yet received any instruction from CGHS Headquarters. The GM (Admn) told that his office had already taken up the matter with CGHS authorities and got settled.He assured that CGHS orders could be given to us.When P S Ramankutty and Com. Anupam Kaul (Secretary of Delhi Headquarter branch) went to his room later, the situation was different. No doubt that his office had taken up the matter with CGHS authorities, but no specific instruction was issued by CGHS Head Quarters to their units so far!. GM told that they are pursuing the matter with CGHS.
Unnecessary restriction of calls on rent-free telephone connections:
This is also an old item pending. Certain number of free calls are allowed to the Rent-free telephone connections given to BSNL retirees.But, some Circles restrict these free calls to LOCAL CALLS making all calls made to out of SSA chargeable. When taken up earlier, It was told that Management Committee of BSNL was reconsidering the issue.GM (Admn) told that a decision is taken to remove that restriction and also that the modified order would be issued soon.
Withdrawal of CDMA Phones:
We brought to the notice of Director (HR) that in some places the pensioners were provided with CDMA Phones instead of rent-free land phones on the plea of technically not feasible. Now the BSNL has withdrawn CDMA. We requested the Director to provide mobile phones to the concerned pensioners.She assured that it would be considered.
Few Individual cases:
Individual cases of some retirees not getting pension as presidential order for their absorption was not issued etc.were taken up.Director assured to examine it and wanted separ
[26/02 14:54] MGR: MEETING WITH MEMBER (SERVICES)
On our request, a meeting with Shri J S Deepak IAS, Secretary, Telecom was fixed at 4 PM on 22-2-2017.We had sent a list of items to be discussed also. But, when we reached his office in time, Secretary was busy in a video conference with Prime Minister. Hence, he authorized the Member (Services) to discuss the issues with us and then go to him, as soon as he is free.
Shri S K Jain (DDG,Estt), Smt Vandana Seth (Director, Estt) and Shri Tiwari (Director, Accounts) were also present in our meeting with Shri R K Misra (Member, Services).
From our Association the following participated:
(1) P S Ramankutty, President
(2) D Gopalakrishnan, Vice President
(3) G Natarajan , General Secretary
(4) P Gangadhara Rao, Dy GS
(5) T S Vittoban, Treasurer
Some issues discussed are:
(a)Extra Increment for fixing Pension
We brought to the notice of Member that some Circles are seeking unnecessary clarifications on the matter and Directorate is not giving the clarifications resulting in denial of the benefits to pensioners. When we started explaining the details the Member(S) said that he is fully aware of OTBP/BCR Etc. He further informed that only on the previous day, DoT received a report on the matter from BSNL Corporate Office. Suitable clarifications will be issued shortly. [Later, we could get a copy of the 4 pages report from BSNL CO. It was totally negative. Next day itself we gave our reaction in writing to DDG(Estt) and Director(Estt). ]
(b) CAT Judgement on Extra Increment case:
We wanted extension of the benefit of CAT Ernakulam judgement in the case filed by our Circle Association to all the affected p