Please click here to see the File attached to understand the benefit being derived from the new Option given to CDA pensioners, including DOT pensioners. third-option-benefit.pdf
21/11
Dear Comrades,
Patna CWC meeting has given a call to branches to hold meetings on 17-12-2017 or any other convenient date and discuss the problems we face, specially our demand for a permanent system for periodic Pension Revision applying Central Pay Commission Formulae.


Importance of Pensioners Day is elaborately explained in the last issue of Pensioners Patrika.


In the meetings, Branches should adopt a short Resolution and send it by post to


(1) Shri Manoj Sinha, Minister for Communications (Sanchar Bhavan, Asoka Road, New Delhi 110001) and


(2) to Smt. Aruna Sunderarajan IAS, Secretary, Telecom (Sanchar Bhavan, Asoka Road, New Delhi 110001)


with due intimation to our CHQ.


RESOLUTION
"REQUEST REVISION OF PENSION OF BSNL PENSIONERS FROM 1-1-2017 AS PER THE 7th CPC FITMENT FORMULA"
AIBSNLPWA CHENNAI TELEPHONE CIRCLE. CHENGLEPET NEW BRANCH FORMATION MEETING WILL BE HELD ON 27.11.2017 AT 10.30 hrs.COMS.G.NATARAJAN G/S.,T.S.VITTOBAN Tr.CHQ. M.MURTHY C/P. M.GOVINDARAJAN C/S. M.KANNAPPAN C/Tr. CIRCLE OFFICE BEARERS, BRANCH SECRETARIES ARE PARTICIPATING IN THE MEETING. ALL ARE INVITED TO ATTEND THE FORMATION MEETING AND MAKE IT A GRAND SUCCESS .
THIS IS THE 14th. BRANCH IN CHENNAI TELEPHONE CIRCLE.
VENUE OF THE MEETING : RAMYA MAHAL
NH 1, MARAIMALAI NAGAR
( ALIGHT AT MARAINAGAR RLY.STN.)
BSNL MRS WITHOUT VOUCHER:-
We are receiving enqueries from many comrades about review of the Scheme of without voucher for pensioners. A wrong information was given by some people that the matter of review is pending before BSNL Board.


BSNL Corporate Office in its letter to all Circles dated 13-11-2017 says that the scheme has to be reviewed after six months. Information based on financial implications were called from Circles vide letters on 17th April and 27th June. But reply has not come. Corporate Office has pointed out the complaints received from Pensioners organisations that in many circles even the first instalment is not paid.


Corporate Office wants status report immediately.


YET ANOTHER REMINDER..mrs-qa-reminder.pdf
Our CWC has been successfully conducted in Patna, on 11th and 12th November 2017. Photos taken are posted here.

6
+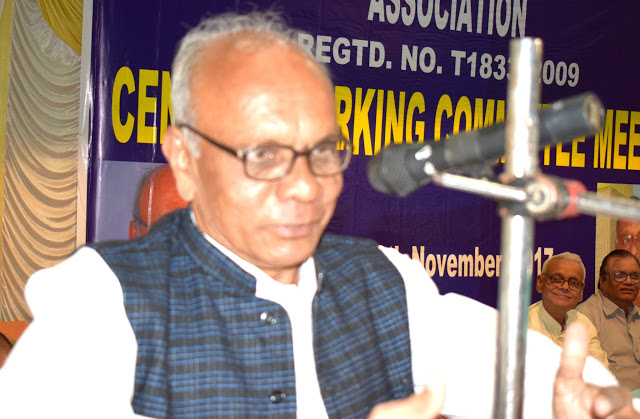 2
+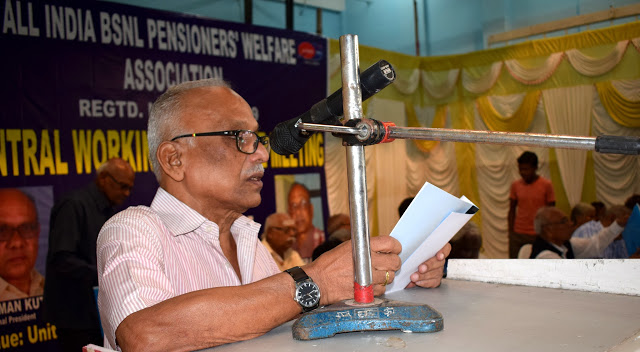 1
+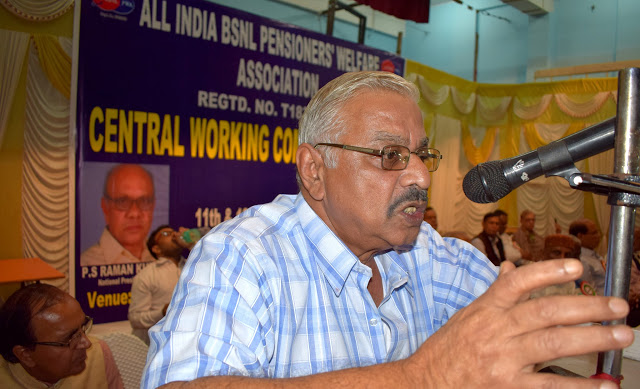 3
+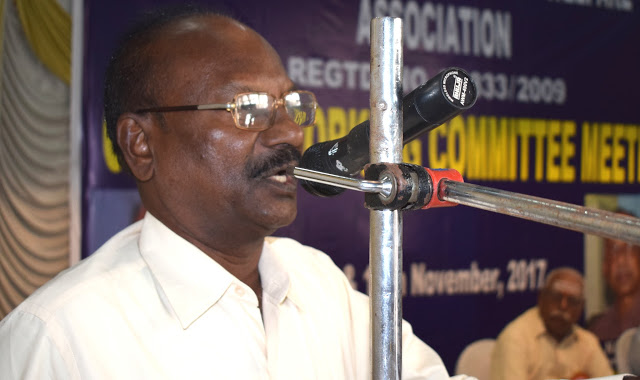 4
+
10
+
9
+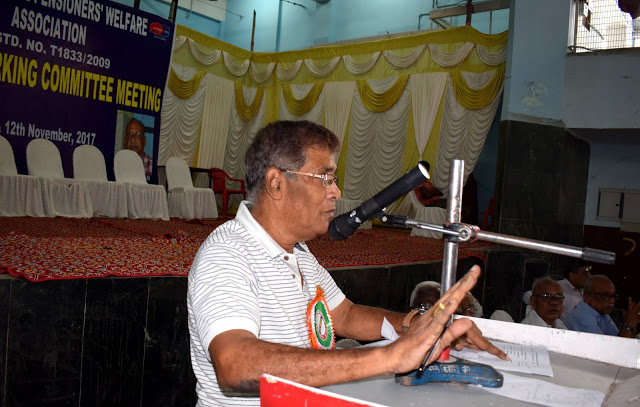 5
+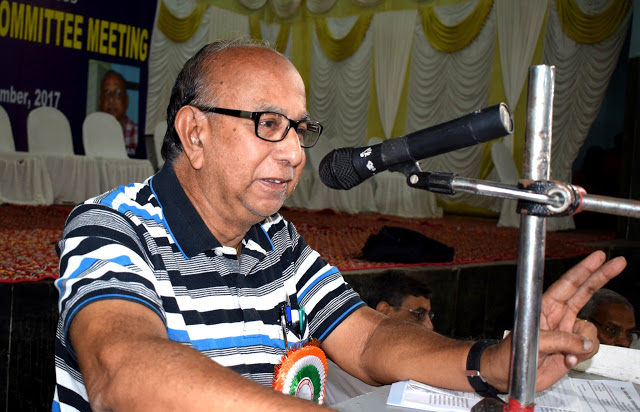 11
+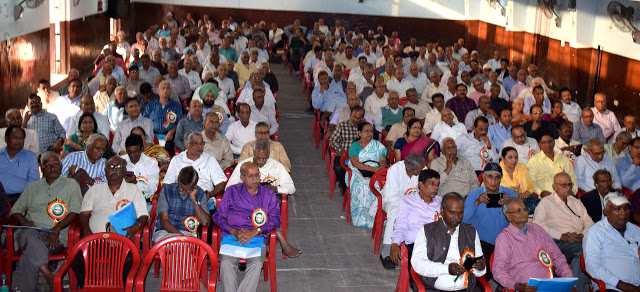 7
+
THIS IS THE MONTH OF NOVEMBER, ALL THE PENSIONERS ARE REQUESTED TO SUBMIT THE LIFE CERTIFICATE TO THEIR CONCERNED PENSION DISBURSING AUTHORITIES (BANKS / POST OFFICES ) BEFORE 20TH OF THIS MONTH.
ALSO SUBMIT LIFE CERTIFICATE TO THE CONCERNED AREA AO (TR) FOR THEIR RENT FREE LAND LINE CONNECTION.
---------M.GOVINDARAJAN C/S
The number of Life Members of our Association, AIBSNLPWA, has crossed 30,000.
Originally we had only annual members.In the end of 2011,
the CWC discussed difficulties of collecting every year the membership from pensioners residing at distant places, and decided to enroll Life Members.
Within six years, the number of Life Members has crossed 30,000.


Tamilnadu and Chennai TD Circles together have 8000.
Andhra and Telengana together have 5700.
Kerala has 3800.
Karnataka has 2800.
MP, Odisha and Punjab have crossed 1000 each.
This is the great response from BSNL pensioners.
This is the real reflection of their great confidence in AIBSNLPWA.


RENEWAL OF MRS CARDS THAT ARE 10 YEARS OLD:-----
CHENNAI TELEPHONES ADMINISTRATION TAKING THE PRINCIPLE OF RENEW THE MRS CARDS WHICH WAS ALREADY ISSUED FOR THE BSNL PENSIONERS AFTER 10 YEARS OF THEIR RETIREMENT, FOR THAT PURPOSE PENSIONERS ARE DIRECTED TO GET THE PRESCRIBED FORM IN TRIPLICATE AT MRS SECTION MILLARS ROAD ,FILL IT UP AND GET THE ATTESTATION FROM THE CONCERNED AOS AND AGAIN COME BACK TO MRS SECTION FOR GETTING RENEWED.
TO AVOID ALL THEES HARDSHIP FOR THE AGED PENSIONERS CIRCLE SECRETARY MET Sr.GM (F) EXPLAINED THE DIFFICULTIES FACED BY THE AGED PENSIONERS AND SUBMITTED A LETTER IN THIS REGARD.GM (F) AGREED OUR REQUEST AND PROPOSAL, ,IMMEDIATELY TAKEN ACTION AND RELEASED A LETTER THROUGH DGM (ADMN&HR)
ACCORDING TO DGM LETTER RETIRED EMPLOYEES NEED NOT GO TO THEIR CONCERNED AOS FOR ATTESTATION. PRESCRIBED FORM CAN BE OBTAINED FROM THE ADMIN. SECTION OR WELFARE SECTION,WHILE SUBMITTING THE FILLED UP FORM TO MRS SECTION THEY HAVE TO ENCLOSE THE COPY OF PPO , LATEST PENSION REVISION ORDER. OLD MRS CARD AND LATEST PHOTO WITH ELIGIBLE DEPENDENT (3 PHOTOS),PENSIONERS HAVE TO BRING THE ORIGINAL PPO AT THE TIME OF RECEIVING THEIR RENEWAL MRS CARD AT MRS SECTION.
OUR SINCERE THANKS TO SRI KALYAN SAGAR Sr.GENERAL MANAGER (F) BSNL CHENNAI TELEPHONES, FOR HIS KINDNESS AND HELP FULL TOWARDS THE BSNL RETIRED EMPLOYEES .
-----M.GOVINDARAJAN C/S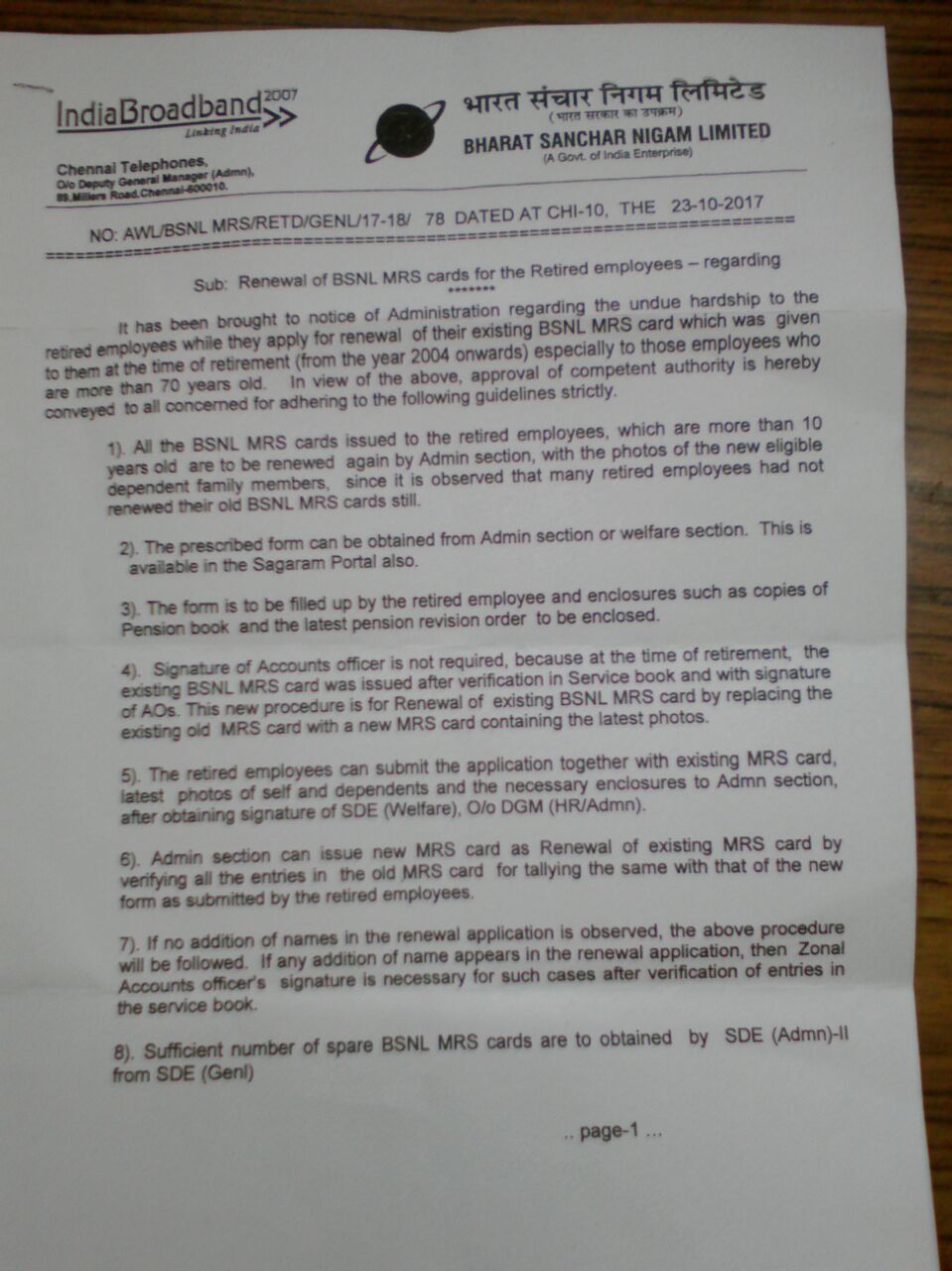 renewalmrs page1
+
renewalmrs page2
+
deepavali
+
DOT says NO on PRC (in a reply to SNEA)
Extra Increment Case
On the basis of our court case PCCA, TN
has issued a speaking order and sent to our Circle Secretary.It's clear thatthere shall not be any recovery and no reduction in pension.With regard togranting of 78.2% benefit with extra increment to the left out caseswill be decided soon, in consultation with DoT.
Thus! Only Our Association has taken
the necessary correct steps
to check the authority.
13-10-2017: ############## CIRCLE CONFERENCE: ##############
AIBSNLPWA CHENNAI TELEPHONE 5th.CIRCLE CONFERENCE WILL BE HELD ON 14th & 15th. DECEMBER 2017, AT SRI ALAMELU MANGA KALYANA MANDAPAM, T.NAGAR, CHENNAI--17.(opp.to T.Nagar Post Office, behind Agathiar Koil )
DELEGATE FEE FIXED Rs. 300/- per DELEGATE .A DETAILED CIRCULAR WILL BE DISTRIBUTED TO ALL THE MEMBERS IN THIS REGARD.MEMBERS ARE REQUESTED TO ATTEND THE CONFERENCE IN MASS AND MAKE THE CONFERENCE A GRAND SUCCESS AND ALSO REQUESTED TO ENROLL THEIR NAMES WITH DELEGATE FEES TO THE CONCERNED BRANCH SECRETARIES
---------M.GOVINDARAJAN C/S
TATA says "ta-ta" to its employees
10/10
TATA says "ta-ta" to its employees; exit from Mobile business.
The Tata Teleservices ispreparing to close their business in mobile telephony.


The company had shown loss of Rs 520 Crore during three months period. It had 5101 employees as on 31-3-2017.Employees are asked to take Voluntary Retirement if willing.Few people may be redeployed in other companies of TATAs. Others will be sent out ….
IDA FROM OCTOBER 2017: 124.3%
29/09
The All India Consumer Price Index (Ind. Workers) for the month of August 2017 is announced today. It is 285 points. For the previous month of July also it was 285.Based on the above, the rate of IDA from 1-10-2017 can be assessed as 124.27%. We can expect 124.3%. An increase of 5.3% from the existing rate of 119%.
STATE BANK OF INDIA ACCOUNTS
28/09
PENSIONERS ARE EXEMPTED FROM THE MONTHLY AVERAGE BALANCE STIPULATION
The State Bank of India has issued revised instructions regarding maintenance of Monthly Average Balance (MAB) in SB Accounts and charges to be levied if the MAB is not maintained.


Significant aspect is that some categories of Account holders are exempted from the said charges.


Pensioners are one category exempted from the MAB charges.
28/09
As reported earlier, we had won the case in Principal bench of CAT. The Judgement was delivered on 16-12-2016 with a direction to implement it within three months. We waited for 6 months. No order was issued. Nor any Appeal was filed. Then we filed a Contempt of Court petition in CAT. It was taken up last month. Advocate for the respondents wanted time. Again, the case was taken up today by a double Bench consisting of Justice Mr. Permod Kohli, Chairman and Justice Mr. K N Srivasatava.
Advocate for CMD BSNL stated that they are filing their reply today. Advocate for the Government wanted further time of four weeks. Our Advocate wanted personal appearance of the Respondents. The Court told that this may be considered subsequently.
Next date is 17-11-2017.
Kodambakkm branch AGM PHOTOS
aud
+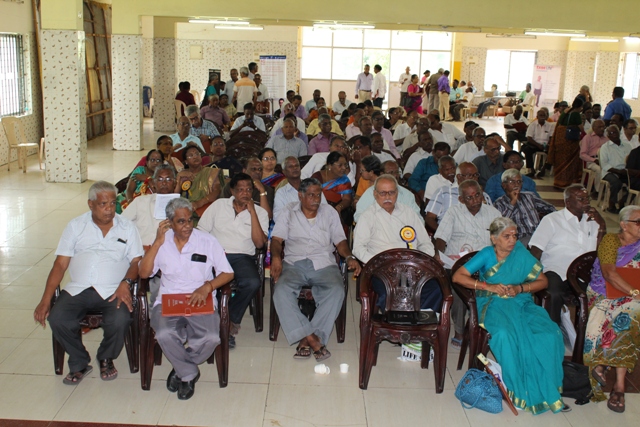 aud1
+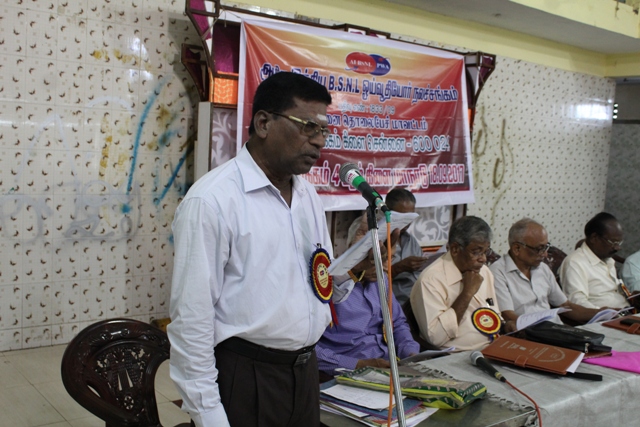 samb
+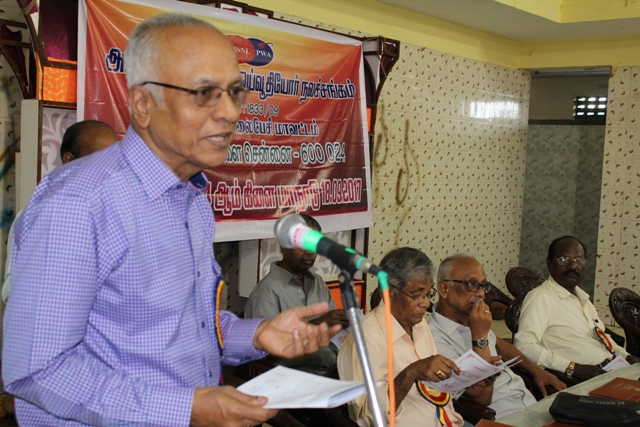 krish
+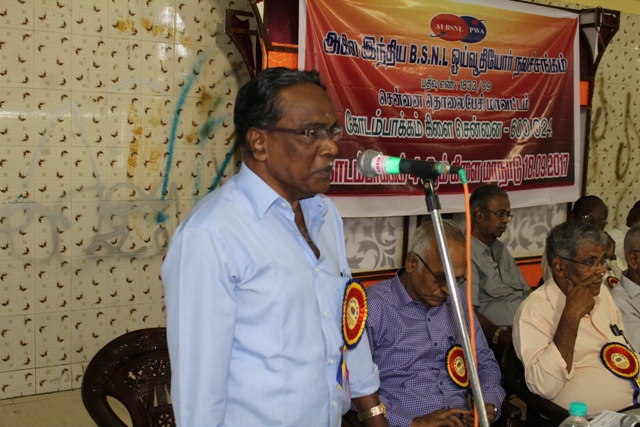 president
+
mgrspeak
+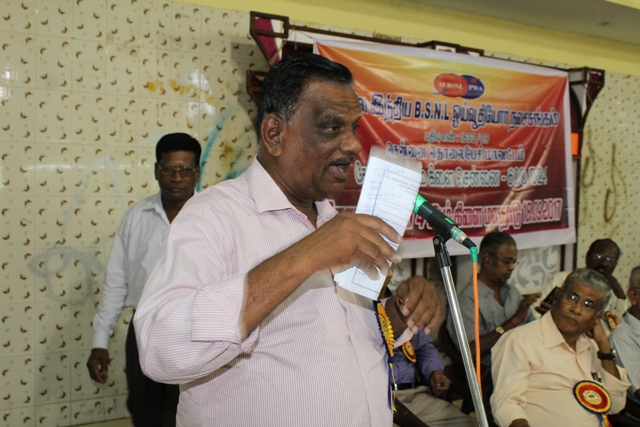 ramarao
+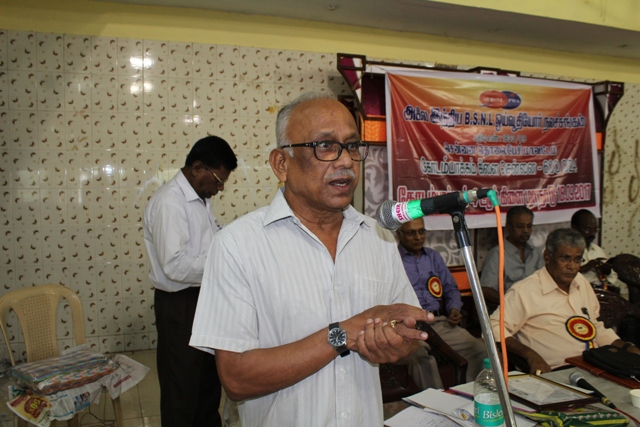 gn
<span class